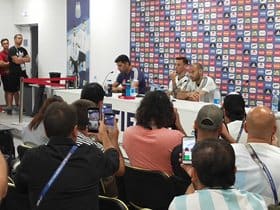 Argentina midfielder Javier Mascherano has explained why he's grateful to the Nigeria National Team ahead of both countries clash at the Krestovsky Stadium, Saint Petersburg on Tuesday.
Croatia's 3-0 win left The White and Sky-Blues in crisis and they would have all but been eliminated from the World Cup if Iceland had beaten Nigeria two days ago.
Argentina celebrated Nigeria's win over Iceland and the South Americans can still qualify for the knockout stages with a victory against the Super Eagles and Iceland do not beat Croatia.
"We know about the noise around the team. We try to live with that. But we worry only about things we can control. On Tuesday, we will seek qualification to the next round," Mascherano told reporters at Sunday's press conference.
"The result between Nigeria and Iceland was the best that we could have hoped for. That gives you the chance to say 'destiny is giving you another chance.'
"But this is not only about the mood, the team needs to perform better. The performance is what shows you the reality.
"That is why we gathered together, with the idea to work this out. We will try to do our thing with an eye on the other match."
Nigeria and Argentina have met four times in the group stage of previous World Cups, with the South Americans winning by a single goal margin in all the matches.
Photo Credit : fifa.com
Why not let your friends enjoy us too. Please share, follow and like us: