North Korea has claimed Donald Trump "begged for a nuclear war" on the Korean peninsula during his first tour of Asia.
In a statement issued through its state news agency, Pyongyang said the US President's trip "laid bare his true nature as destroyer of world peace".
Mr Trump this week warned North Korea not to underestimate the US as he used his Asia visit to seek support for ramping up sanctions on the secretive state.
During a speech in Seoul, South Korea, on Wednesday, he told North Korean leader Kim Jong-un his commitment to developing nuclear weapons was "not making you safer".
"They are putting your regime in grave danger. Every step you take down this dark path increases the peril you face," he added.
"Trump made his conceived attempt yet again to alienate our people from the government," said a North Korean foreign ministry spokesman. "Trump, during his visit, laid bare his true nature as destroyer of world peace and stability and begged for a nuclear war on the Korean peninsula."
The spokesman said nothing would deter North Korea from pursuing its nuclear weapons programme.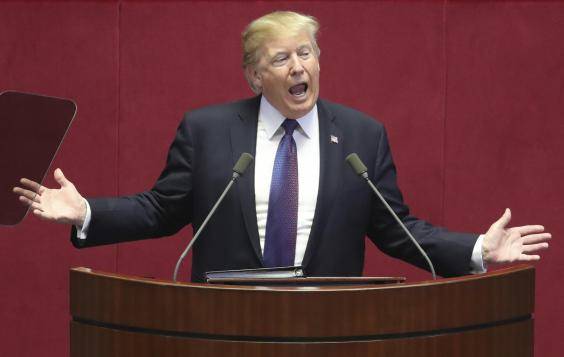 The statement was issued as the US and South Korea began a rare joint naval exercise involving three US aircraft carriers in what military officials said was a clear warning to Pyongyang.
The four-day drills started in waters off South Korea's eastern coast come as President Trump continues a visit to Asia that has been dominated by discussions of North Korea's nuclear threat.
The USS Ronald Reagan, Theodore Roosevelt and Nimitz will take part alongside 11 US Aegis ships – equipped with missile tracking technology – and seven South Korean naval vessels.
The exercised are aimed at enhancing combined operation and aerial strike capabilities and will also display "strong will and firm military readiness to defeat any provocation by North Korea with dominant force in the event of crisis," Seoul's military said in a statement.
Pyongyang's statement on Saturday was the latest salvo in a long-running war of words between North Korea and Washington.
It came a day after Mr Trump warned the Asia-Pacific region must not be "held hostage to a dictator's twisted fantasies of violent conquest and nuclear blackmail," in thinly veiled comments referring to North Korean leader Kim Jong-un.
Speaking in Vietnam, the US President said "every step the North Korea regime takes towards more weapons is a step it takes into greater and greater danger".
He has called on China and Russia in particular to ensure they impose all available financial and diplomatic sanctions on Pyongyang.
Why not let your friends enjoy us too. Please share, follow and like us: