By Andrew Warshaw
September 13 – FIFA's entire approach to ethical standards under Gianni Infantino came under attack today by the man ousted as the organisation's chief governance and electoral watchdog.
In a series of unprecedented revelations highlighting the self-serving power politics of Infantino and his inner cabinet, Miguel Maduro told a British parliamentary committee about the pressure he faced simply doing his job and the circumstances of his controversial removal after just 10 months as head of FIFA's governance committee.
"There were one or two instances where, while we in the process of taking decisions, (that) there was an attempt to exert influence on us," claimed Maduro. "You could see by their reactions that were not used to independent scrutiny. Sometimes they expressed their strong dissatisfaction. Other times they refused to implement decisions."
Declaring that FIFA was still "embedded" in the past when it came to meaningful reform, Maduro explained how his removal, as part of a purge of senior ethics watchdogs,  was directly linked to his decision to block Russian World Cup supremo Vitaly Mutko from keeping his seat on FIFA's ruling council.
Mutko, a key Infantino ally, was barred because his role as Russia's deputy prime minister was deemed to be in conflict with FIFA's regulations on political neutrality.
In a remarkable testimony, Maduro revealed that he was pressurised by FIFA not to ban Mutko for fear of hurting next year's World Cup – and jeopardising Infantino's presidency.
Infantino, Maduro said, was "not comfortable" with Mutko being ruled ineligible and was "very clear" about it. Matters then came to a head when FIFA secretary general Fatma Samoura paid him a visit in Brussels.
"The secretary general made it clear to me that it was extremely problematic," Maduro told members of Britain's Culture, Media and Sport Select Committee at the House of Commons. "More than that, she said we needed to find a solution to declare Mr. Mutko eligible because otherwise the presidency itself would be in question, the World Cup would be a disaster, that was her view, and as a consequence the continued presidency of Mr. Infantino would also be in question."
Maduro said there was a "clear contradiction" between FIFA's stance on Mutko and invoking the principle of no government interference on various football associations around the world.
"We were certainly aware of the sensitivities … but it's one thing to be aware of that and another thing not to apply the rules," he said.
Two months later, Maduro was removed along with Cornel Borbely and Hans-Joachim Eckert, the heads of its ethics investigatory and adjudication bodies.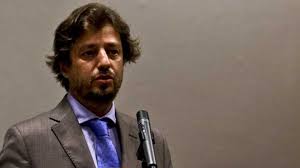 FIFA said at the time it wanted to "better reflect the geographic and gender diversity that must be a part of an international organisation" but Maduro took a different view.
"FIFA ought to have presented a very compelling argument on why (it was)  removing the three key (independent) figures. That didn't happen."
"We knew that some of the decisions we were taking were difficult to be accepted. But my expectation on the part of the president of FIFA was that he would ultimately protect the authority of the independent committees. What we saw when (our mandates) were not renewed, was that this was not the case."
Although Infantino, when he came to power in succession to Sepp Blatter, accepted the idea that there needed to be change, said Maduro, "at a certain point" he realised that if he wanted to survive politically, he had to choose between "protecting the independent bodies" or answer to those who elected him.
Tellingly, said Maduro, Infantino stopped speaking to him after the Mutko issue, the biggest call of his tenure.
With a FIFA-appointed lawyer observing proceedings from the back of the room, Maduro's testimony lasted over an hour and was conducted under parliamentary privilege allowing him to speak freely – no doubt to FIFA's irritation.
FIFA, he said, had an "incapacity" to deal with independent scrutiny despite Infantino's regime persistently claiming the clouds of corruption had cleared.  "There is a culture that is extremely resistant to accountability, independence and transparency. It's a system of rules without the rule of law."
In other testimony, Maduro, whose appearance had to be postponed from Tuesday after his original flight to London was cancelled, claimed some confederations tried to block full implementation of new rules on electing female committee members; that half the current FIFA governance committee are not independent, as required under the rules; and that in certain elections, which he did not specify, different coloured pens could be distributed to identify how delegates were voting.
He also revealed how Egypt's FIFA Council member (Hany Abu Rida) threw a party to promote his election candidacy and that, as a result, the Confederation of African Football (CAF) was asked by Maduro to allow rival candidate Zelkifili Ngoufonja to speak at the Confederation of African Congress to push his own case. "We recommended that he should at least be given the opportunity to speak but this did not happen," said Maduro. In the end Zul, as he is known, was beaten 54 votes to 4. Interestingly Zul was never told that Maduro had made this request. He had requested to speak but been rebutted by new president Ahmad Ahmad (himself elected on a programme of reform), saying that "it's not a tradition at CAF, has never happened, and is never going to happen."
Why not let your friends enjoy us too. Please share, follow and like us: